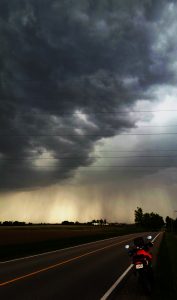 The other day riding home from a periodontal appointment in a foul mood I rode into a wave of ozone and turbulent clouds.  Spots of rain began to hit the visor while waves of rain approached over the horizon.  I pulled over to take some shower pictures and ponder the state of the world; it's been a tough month in motorcycle culture.
Robert Pirsig died in April after a long and difficult life.  Zen and the Art of Motorcycle Maintenance is a deep and nuanced read written by a man of tremendous intelligence who battled with mental illness.  If you can hang on to it and the philosophy it pitches at you, you'll find a an ending worth waiting for.  Pirsig's little book is one of the best examples of deep thinking intertwined with motorcycling I've found.  He leaves behind an important legacy.
Nicky Hayden, by contrast, was living the dream.  A man who found his passion early and then excelled at it, Nicky raced motorcycles in pretty much every level of road racing there is, and he did it with an infectious grin plastered across his face.
He was in the paddock of MotoGP a few years ago when I started watching, but by then he was on a satellite bike and struggling near the back of the field.  It wasn't until I saw The Doctor, The Tornado and the Kentucky Kid that I realized the trajectory of Nicky Hayden's career and came to respect both his talent and his tenacity.
Nicky was training on a bicycle on a road in Italy after his last round of World Superbike racing on my birthday when he was hit by a car.  After some days in a coma he passed away.  It's the kind of news you don't expect to hear.  Nicky wanted to work on reintroducing a new generation of American road racers to the sport when he retired (there are currently no Americans contesting MotoGP when it used to be dominated by them), but instead he's gone.  Because of a driver in Italy not seeing a cyclist none of that will happen now.
I stood there feeling the temperature dip, the wind kick up and the darkness fall while ruminating on these two very different deaths – an old man and a young man, an academic and anathlete, both linked over decades only by their love of two wheels.

I jumped on the bike and got home just as everything went pear shaped outside.  Rain lashed the windows and the day went dark.  

Of course, as is the way of things, when the storm passed the sun came back and reminded me how beautiful the world can be.
from Blogger http://ift.tt/2sVoldb
via IFTTT