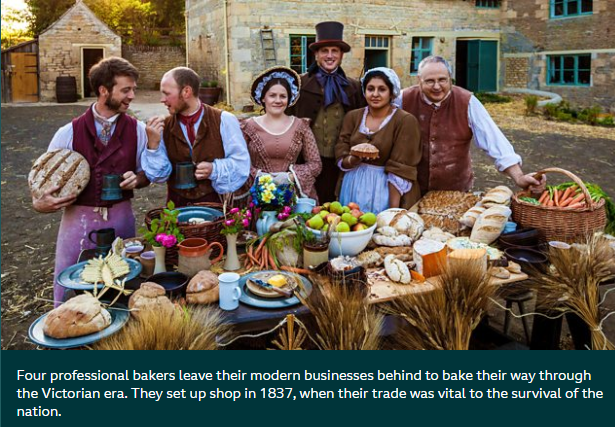 I watched the first episode of BBC's Victorian Bakers the other day and it's still resonating with me.  They kick it off by taking modern bakers and putting them in an early Victorian bakery.  Like one of the guys in this, I have a family history of baking.  The Kings I'm named after were bakers on Drayton high street near Norwich for generations.
My uncle John has a great story of heading out for bread deliveries on a horse and cart with my great grandfather Eddie.  They left before sunrise and were dropping off loaves for miles and miles before coincidently ending up doing their last drop right next to a public house around lunch time.  Eddie went in, had two pints on an empty stomach and then got back on the cart.  The horse walked the ten miles home without direction while Eddie had a nap.  My then six year old uncle just sat next to him with his mouth hanging open.
The BBC show does a good job of situating those early Victorian bakers in a time period that is very unfamiliar to modern people.  They were performing a truly sustainable industry that had been done in much the same way since before the middle ages.  For millenia local bakeries in villages and towns across the country had made bread that provided the majority of caloric intake for everyone around them using technology and processes that were passed down from generation to generation.  Every time I take out a bag of garbage or a box of recycling and wait for a diesel monster to take them away, I'm aware that what I'm doing isn't remotely as sustainable.  It's a lot of hard graft, but between our fixations on ease of living and short term gain, the idea that we could hand down an industry to our children without it destroying the world is foreign to us, hard work or not.
Using brewer's yeast from local breweries and grain from local fields, the bakery, attached to a water powered mill, would feed everyone within walking or riding distance.  In the process of mimicking this time period the modern bakers made a number of surprising observations, such as how effectively the locally sourced and unmodified brewer's yeast raised the bread.  Modern yeast has been bred to grow as rapidly as possible in order to be distributed industrially on a massive scale.  It's not made for taste or even health, it's made for ease of productivity.  Most of what we do in the 21st Century is designed to feed industry.  The modern bakers who are used to this GMO'd yeast were surprised at how well the traditional brewer's yeast worked, as well as how much taste it retained; modern yeast is bland by comparison.  One of them said that he could make this bread in his current bakery and it would sell no problem – people miss the details lost in industrialization.
Another naturally rather than industrially sourced ingredient were the local, ancient grains used in this traditional bread making.  An archeologist turned farmer in the area was farming using traditional methods.  So, rather than industry driven monocultural crops that erode soil, he had a variety of grains that naturally grew in the region.  He couldn't slot that in to modern expectations designed to maximize profit at the expense of everything else, but it did enable the TV production to make a surprisingly accurate traditional bread.  Those traditional grains changed from region to region depending on the local biome, so if you travelled more than two centuries ago, the bread and beer would have tasted different depending on where you were.  Modern grain is bred for rapid growth and tends to be monocultural (and trademarked) in order to maximize short term yields, so they lack that variety and the sustainability that ancient grains had.  Another surprise was the reduced amount of gluten in the ancient grains bread.  Modern monocultures are selected for maximum gluten in order to produce the biggest, fluffiest bread possible.  We genetically engineer grains so they are gluten overloaded then wonder why we're having a reaction to gluten.
GMOs aren't the issue here other than how trademarked, selective breeding also fits into the industrial farming disaster.  We've been selectively breeding crops and animals for thousands of years to good effect.  The issue is how industrially driven economics force agriculture into unsustainable, damaging, repetitive high-yield, mono-cultural crops that are inherently dependent on diesel powered heavy machinery and heavy chemical use.  All of this is done to produce as much cheap food or fuel as possible.  The quality of that food and the fact that we can't keep doing it this way aren't in the equation when farmers are forced to look at short term gain year after year.  When we mess around with agriculture in order to increase profitability at the cost of our health or the health of our environment, we're ultimately destroying the world for the short term gain of only a few people, and leaving the wreckage for the people who come after us.

The economic system that drives our industrial economy goes well beyond a lack of sustainability.  It demands sacrifices to our health and safety in order to drive short term profit.    Thanks to this myopia we have turned a staple food that we've eaten for thousands of years into something unsustainable and unhealthy in order to make more of it for less.  The following episode of Victorian Bakers showed how industrialization and the profit driven wealth that comes from it not only made a traditional, sustainable industry nearly impossible, but also produced products that were happy to trade health for profit.  The bakers in the show were never as unhappy as they were in the early industrial bakery.  The next time someone tells you that we need to deregulate industry, show them this:

***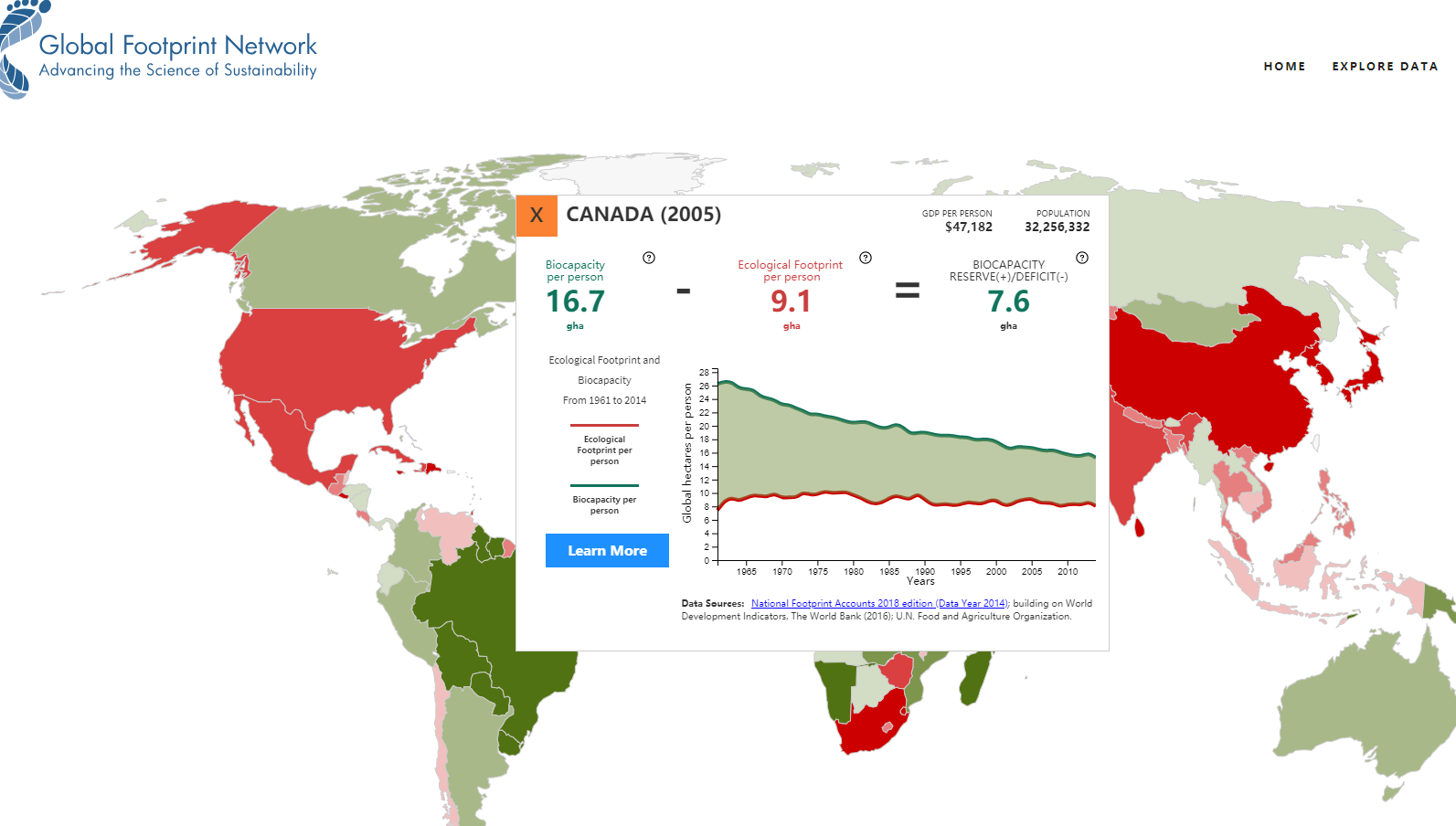 This series has me thinking about larger questions around sustainability.  Pretty much everything we do on an industrial scale is driving us toward extinction or at least a drastic correction.  We're too selfish to make these changes ourselves, but it doesn't matter because nature will eventually make them for us.  We think we're forced into making these decisions because of our population, but our population is also a choice.
Current estimates have us at three times the sustainable number of people the Earth can manage.  We could resolve overpopulation in only a few generations, but it would mean radically altering an economic system designed to ignore sustainability in favour of selfishness and short term gain, as well as acting in a way that we as animals aren't evolved to do.  Procreation is an instinctive force that most people are unwilling or unable to consider modifying.  Asking humans to voluntarily consider modifying the number of children they have raises all sorts of superstition and involuntary anger.  The vast majority of us are not able to worry about how our great grandchildren will survive no matter what horrible things we're doing to them.
Pledge to look after your great grandchildren by signing here
If, over the next four generations, we volunteered to follow a one child per family policy, we'd have corrected human overpopulation by 2100.  By 2200 we could stabilize the human population under that two billion mark while still being able to develop our science and technology towards less invasive and more sustainable goals.  What we wouldn't be able to do is continue our short sighted economic system that really only works to convert future misery into today's profits for a decreasing number of people.  Our economic system is only considered successful if it's always growing.  The only other thing in nature that works that way is cancer, and a cancer is exactly what free-market driven human beings who think they can procreate at will and ignore the natural consequences are.
It's possible for us to resolve the mess we're in.  There is a way forward, but I fear it'll never happen voluntarily.  I'll never meet my son's grandchildren, but I hope he can leave them a world where they don't find humanity to be a selfish, ignorant, overpowering cancer on the biosphere.  It would be a world where human beings take responsibility for the science and technology that have allowed them to medicine themselves past many of the natural mechanisms that would have otherwise limited their growth.  If we're going to spend billions ensuring children aren't dying of disease, then we need to produce less children, or forgo the benefits of that medical science.  The choice is one made by a technologically mature species, but that's not us.
There could be a future where the reduced human population load on Earth would allow us to continue to develop our science and technology and eventually move our heavy industry out of the only habitable ecosystem we have.  The solar system would be able to provide raw materials for our off-world heavy industry while our home world would became a carefully managed, bio-diverse and sustainable home.  It won't be groaning under the weight of unsustainable agricultural monocultures we developed to feed an overpopulated planet.  Our biodiverse world would contain self sustaining settlements.  Cities would evaporate and small towns and villages would proliferate, though they would all be able to communicate with each other.  We would benefit from that biodiversity both in terms of sustainability and research.  We can't make ground breaking discoveries from the massive variety of life around us if we reduce that variety to monocultures designed to feed as many humans as we can stuff onto the planet.
Power generation would be regional, small scale and renewable and consumption would be efficient and light.  Settlement size would be dictated by the biome it was located in and how much food and energy could be produced to look after the people in it.  Cellular regional governments would make decisions for their local needs and larger decisions would be made by combined groups on whatever scale was required, right up to world wide decisions on world wide consequences.  High power production for heavy industry would still happen, off world.  The people who wanted to work in heavy industry would work in space and come back to a green and blue home when they wished.  Imagine a world like that pre-Victorian bakery where the benefits of local life are emphasized and enhanced, but with the efficiencies of advanced communications and micro-manufacturing available to improve health, wellness and quality of life.
Space based energy production could be microwaved to the surface when needed.  Heavy equipment built on the Moon from mines throughout the inner solar system would mean access to raw materials without having to upset the Earth's biosphere.  Saturn is a near infinite source of Helium3 energy.  Once we build the processes to mine the helium there, we have an energy rich, sustainable civilization for the indefinite future.  Advances in nano-technology, gene editing, chemistry and micro-manufacturing would make our current technology look as inefficient and awkward as steam trains do to us.
From that energy rich space based industry we could eventually drop space ladders down to the surface, making the transfer of people and materials to and from space even more ecologically viable and efficient.  There would come a time where there are more people scattered through the solar system than there are on Earth, but it would always be there ready to welcome us home.  Maybe at some point we would build generational ships and head to the stars, looking for other homes.
A future where we are able to hand down our way of life to our descendents without it killing them is only a single personal choice away.  It's a shame the vast majority of humanity don't have it in them to do it.  What my son will be telling his grandchildren is that he's sorry it has all gone so wrong.  As vital resources like water become scarce under the crushing weight of billions we'll do what we've always done when resources get scarce and go to war with each other.  At that point our science and technology will actually be put to the task of reducing human populations radically quickly.  Perhaps in the aftermath of that we'll find a way forward, but we're too stupid and self-righteous to make a decision that will avoid that misery now.
I'm a big fan of artificial intelligence.  As I get older I'm starting to think it's one of the only places I'm seeing any kind of intelligence.  We seem to be regressing politically and culturally.  Given an opportunity to light up a SkyNet that would manage us better than we're willing to manage ourselves, I wouldn't hesitate to flip the switch.  It might be the only way we have a future.
***
Research Links:
The other thing that got me thinking in this direction was Starfarers by Poul Anderson.  The characters in the novel are travelling between stars at relativistic rates, so when they return to Earth over ten thousand years have passed.  Anderson uses that as an opportunity to look at how human society could become a long term, sustainable process.
https://www.sciencedaily.com/releases/2008/04/080428120658.htm
https://databank.worldbank.org/data/reports.aspx?source=2&series=EN.ATM.CO2E.PC&country=#
https://phys.org/news/2012-08-earth-absorbing-carbon-dioxide-emissions.html
https://www.worldpopulationbalance.org/3_times_sustainable
"If we allow overpopulation and overconsumption to continue, the evidence is mounting that billions will suffer and that we will leave future generations a much harder, bleaker life."
"Taking these non-renewable resources into account suggests 2 billion people living at a European standard of living may be the upper limit of a sustainable global population"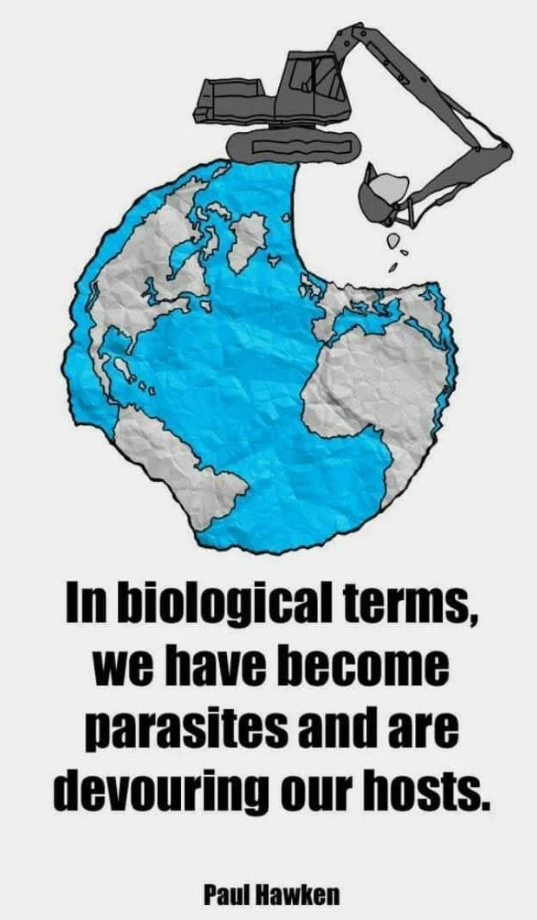 https://www.footprintnetwork.org/our-work/ecological-footprint/#worldfootprint 
http://data.footprintnetwork.org/#/
https://www.huffingtonpost.ca/entry/nature-destruction-climate-change-world-biodiversity_n_5c49e78ce4b06ba6d3bb2d44
The rapid decline of the natural world.