I'm sitting here listening to CBC's Sunday Edition doing an interview with an ethics adviser for a California university. Her description of cheating isn't one of deceit and intent, it's one of accidental opportunism. She argues that students often don't even realize they are cheating.
In another section of the interview a university student says that it isn't the student's fault, they are victims of the ease of technology. These two ideas are closely linked; accidental cheating and technological access to information. In both cases, ethical choice is removed from the 'victim'. This is a pretty weak ethical argument. Because something is easy and readily available, it should be done? If you see a person put an ipad on a park bench and then get distracted for a few minutes, do you walk off with it? According the this victim mentality you would have no choice. The fact that all of your friends have stolen ipads from the park only makes it more acceptable.
When I think about my own university experience, it didn't even occur to me to cheat, because of my sheer awesomeness. My arrogance ensured that I would never even consider putting in someone else's work for my own, but then I was there to develop my own thinking. I'd walked away from a lucrative career in order to push my limits. Most of the kids I was in university with (typically 4-5 years younger than I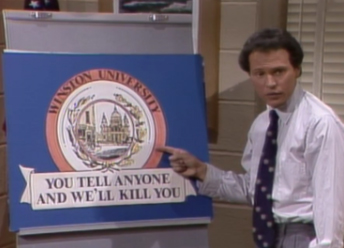 was, many of whom dropped out) were there because they couldn't think of anywhere else to go. You didn't get a clear sense of who the real learning disciples were until third or forth year.
Later in the same episode, they mention that the vast majority of students in university now are there because they want a higher standard of income, they're there for the payoff at the end. If university is really all about the money, then perhaps their victim mentality is simply the best way to morally justify taking everything you can while doing as little as possible. University should, perhaps, follow SNL's angle from so long ago and simply accept what it is becoming.