Some dream project bike builds…
Stock (before)
1970s Honda CB750 Cafe Racer Mod
I'd take the standard CB750, strip it down, refinish it and modify it into a cafe racer along the lines of this Dime City Cycle build.

I'd modernize the pieces that need modernizing. This isn't a period remake, it's about creating something new with old bones.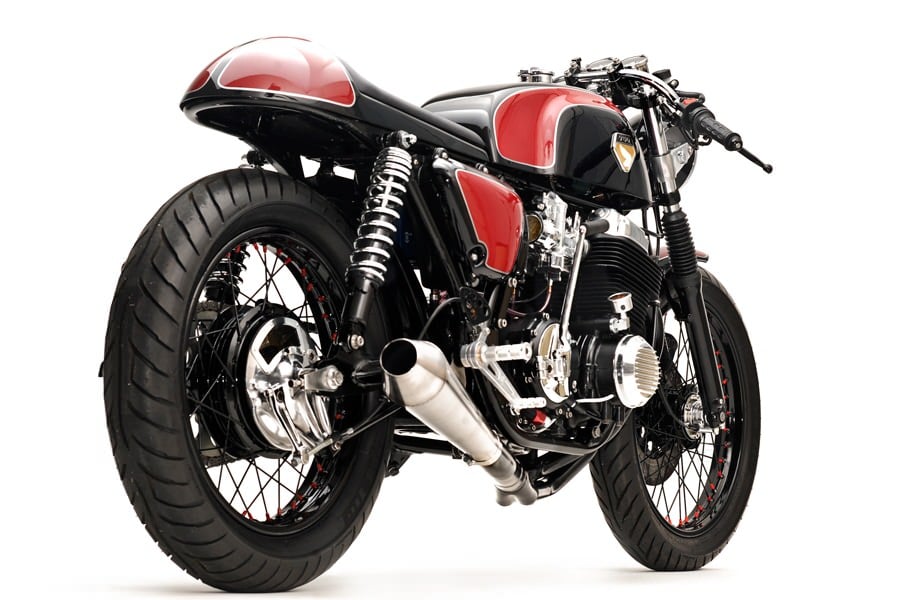 A cafe racer build (after)
The CB750 that Dime City put together gives you an idea of what could be done in customizing an old CB750, but I'd do something different.

I'd hope to be able to pick up the bike for less than a couple of grand and then put at least that much into it again as I stripped it and put together a personally customized cafe racer. The CB is a big bike, which would turn into a bike cafe racer for a big guy.



Being Austin – build my own
Mondo Enduro
Machine
Austin on his mighty Suzuki DR350
Find a Suzuki DR-350 or DR-400, hopefully one that's been sleeping in a barn somewhere, clean off the straw and strip it down to nuts and bolts.

In rebuilding it I'll not only end up with a dependable long distance off roader, but I'll also have laid hands on the entire thing before it inevitably breaks somewhere far from anywhere, meaning I'll know how to get it going again.

Long distance and modernizing modifications would include a long range tank, updated suspension and an engine rebuild with performance carbs and a re-bored engine.
Find a 1990s DR350 Suzuki dual sport
bike and prep it for
long distance off
road work, Mondo Enduro-ize it!

The goal would be a minimalist go-anywhere machine that isn't all about branding. So many adventure bikes are all about the BMW-ness or whatever. This bike would be a capable, light-weight all rounder that isn't about advertising but all about going anywhere.





Anime Dreams: taking the bike I loved as a kid and building an anime custom
The bike that was on my wall when I was younger was the Honda Interceptor. With a complex, powerful v-4 engine and the sharp edged eighties styling, this bike was the bomb.

I'd want to do a rebuilt / customization that keeps the feel of the bike but also feeds into the Japanese animation fixation I've had forever.


Influencing the build would be Akira and Robotech. BBB-Bike has already done a Cyclone customization, which is a bit more comicon than I'd be aiming for.

My Interceptor would still be an Interceptor, but with little tech-touches that bring out the anime in it. LED lights, a customized, anime inspired seat/rear cowling and mirrors, that sort of thing.




Real Restoration: a Triumph Bonneville the same age I am
an new old Triumph Bonneville
Henry Cole did a restoration on a '70 Triumph Bonneville in the last season of The Motorbike Show on ITV (not sure why ITV isn't offering a webpage for that show, they should be).
Henry and Peter Thorne (the restorer), of Aspire Restorations, take what can only be described as a complete wreck (a frame and fairly useless lump of engine) and completely rebuilt it. It ends up pretty much being a new 1970 Triumph Bonneville.
I'd like to find a British bike built on the same day I was born (in the UK) and do a restoration on it, then we could both age gracefully together.