Four years ago I was advocating for BYOD.
I was a big fan of the bring your own device (BYOD) approach to educational technology.  I'd hoped that it would diversify the technology we were using in class that looked like it was evolving toward a Google owned Chromebook driven internet and would allow the students who wanted to differentiate their digital access to do so.  It should also have left more money free to ensure that all students have some kind of digital access, therefore addressing equity of access worries.  It turns out that offering free data to students means there isn't a lot of money left for anything and has been detrimental to teaching digital fluency.


Our school board went in early and built out wireless infrastructure and developed a BYOD network that was open to anyone entering one of our schools.  In the years since this happened the number of students bringing in their own devices hasn't changed (most do), but the type of device they bring and fill up the network with also hasn't changed.  Laptops and other more creation focused devices are a non-entity on our BYOD network – it is packed full of smartphones focused on personal use.  You can make an argument for these devices as creation tools, but their function is built around consumerism and the data collection that monetizes the modern internet.  The vast majority of smartphone users are consumers by design, not creators in anything other than a selfie sense.


The vast majority of those smartphones are not used for school work and are often directly opposed to it.  Our administration is now trying to manage cyberbullying that is happening in class across the entire school on networks students shouldn't even have access to.  The problems caused aren't just lack of student focus in class, these devices cause systemic problems as well.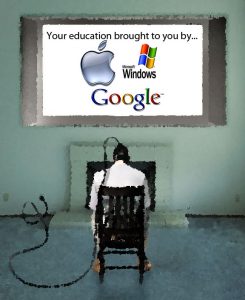 If a smartphone is used for anything class related it is a minuscule percent of its daily use.  Many of our teachers have issues with managing off task smartphone use in class.  Earnest #edtech types (usually with corporate backing) tell us this is because we're not doing it right and we should buy into their system.  As someone who was doing it right before your Google/Apple/Whatever certification existed, I'm here to tell you that this is nonsense.  Smartphones aren't creative tools, they aren't designed to be, they're designed by data collection companies to collect data.  Trying to build your classroom around a device like that is like trying to set up a roofless tent in a rainstorm to stay dry.


Our school  board has made numerous attempts to focus network data use on learning, but students are willing to open themselves up to phishing and other hacks by installing policy banned VPN networks to bypass website filters.  Even in our carefully moderated network environment we've got students sharing their data through unknown off shore servers just so they can Snapchat while in class.  They do all this without a clue about what they've done to their data integrity.


I'm not sure at what point school boards in Ontario decided that they should be providing free internet to students, but it isn't cheap.  Our board has struggled to stay ahead of the data tsunami caused by all these vampire smartphones clamping on to our BYOD network each day.  Apps that constantly update and stream data are the new normal and the current round of digital natives expect to be able to drink from the tap all the time in whatever manner they see fit.  This is costing tens of thousands of dollars a month at a time when department budgets are tightening up and I'm not even given enough to cover the basic costs of consumables like wiring and electrical components in my technology classroom.


I would love to see BYOD being used for its intended purpose, but instead of valuing the network they've been given, students see it as an expectation, like running water or electricity.  They make minimal efforts to moderate their use of it and become incensed if it's adjusted to try and focus them on using it for school related work while in the classroom.  If it was taken away at this point I think there would be much gnashing of teeth and agonized screaming by students who think that free internet access is some kind of constitutional right.  In the meantime we're all paying millions of dollars a  month across the province to provide these students with bandwidth that feeds their habitual technology use and is more often a detriment to learning.


I'm as frustrated as anyone, but simply offering internet for everything doesn't seem to be working.  Once again, I come back to the lack of a digital fluency continuum of learning in Ontario.  If students aren't shown how to use technology effectively, offering them unbridled access to it isn't going get us anywhere.


Our implicit enabling of habitual technology use makes for whole generations of digital narcissists.


It's been five years now and Ontario still has no mandatory digital skills continuum even though digital technology is pretty much everywhere now.  We expect students to learn foundational skills in other aspects that are curriculum wide (literacy, numeracy), but we magically expect them to understand and make effective use of digital technology.  The BYOD failure is just another symptom of this disease.


All we have to do to do it, is do it:


I don't care whose skills development process we use, but can we start teaching technology if we're going to use it in everything?  Digital technology is prompting systemic change in how we share information, create media and collaborate on learning.  Can we start to treat it like the fundamental skill it is?  Please?!?
I roughed out an idea a few years ago – in it I suggested limiting access to technology to fluency and slowly opening up that access as technical skills improved.  BYOD is a great idea for digitally fluent students who know what it is and how to use it effectively.  
In literacy terms this would be like slowly increasing reading difficulty as vocabulary and reading fluency improves.  What we do with digital technology is nothing at all until a student brings in their own copy of War and Peace, which they then use to prop open doors and doodle in it.
from Blogger http://ift.tt/2qwGkFr
via IFTTT